Russborough House June 17th 2017
Delighted to be performing again with the Celtic Tenors in the wonderful setting of Russborough House. Hopefully the sun will be shining and it will be a lovely summer evenings entertainment.
Tickets can be purchased at Eventbrite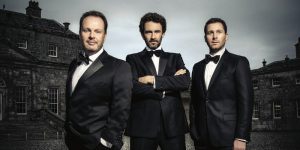 postsJun 1st, 20170 comments
About Deirdre Shannon

Deirdre, a versatile singer from Ireland, has always had a natural instinct for music. She developed this further by classically training at Dublin's College of Music. With this education under her belt, Deirdre embarked on a solo career and through an illustrious series of achievements in critically acclaimed singing groups and shows around the world has made a name for herself.

Featuring in Deirdre's career to date are the internationally acclaimed shows - Lord of the Dance, Celtic Woman as well as many appearances with other groups such as the Celtic Tenors, Dionne Warwick and The Chieftains.
For more on Deirdre please view her Biography page.

She is now available as a Wedding Singer, Funeral and Church music singer by contacting her directly and to perform in shows which are organised through her agent.