A celebration of Local and International Artists including myself, Mathew Gilsenan from the Celtic Tenors and Michael Bunnock among many others. Kells the ReAwakening
Also some of the amazing performers were Gerry Leonard who has played with many artists including David Bowie, Steve Wickham from the Waterboys and called the "Greatest Rock Fiddle Player", Niamh Farrell songwriter and lead Vocalist with Hamsandwich. To learn more about these and the other performers have a look at the Kells ReAwakening site.
A great night for all.
Kells the ReAwakening 2018
A few photos from the wonderful gig in Kells on the 27th of January 2018.
Delighted to be performing again with the Celtic Tenors in the wonderful setting of Russborough House. Hopefully the sun will be shining and it will be a lovely summer evenings entertainment.
Tickets can be purchased at Eventbrite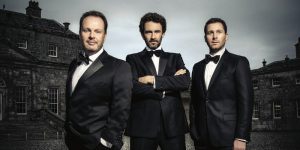 Enjoy a fantastic night with myself Deirdre Shannon, international Opera Star Majella Cullagh and Soprano and Classical harpist Marina Cassidy on Nollaig na mBan Womens Little Christmas.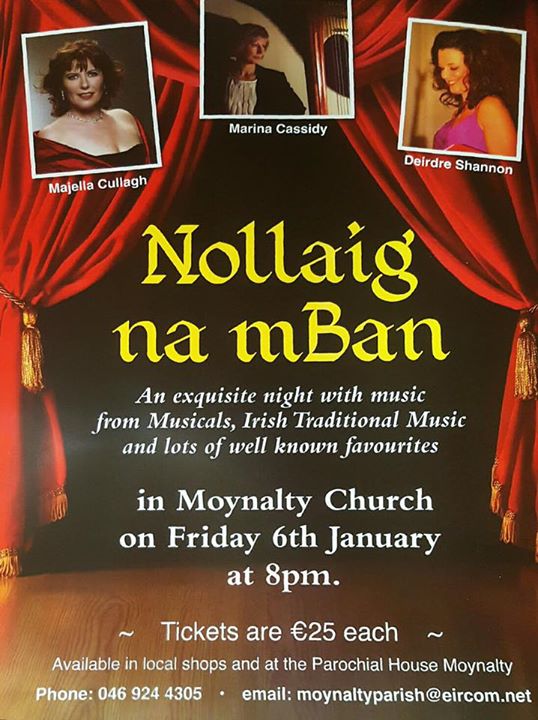 Hi join myself and the wonderful Celtic Tenors in their only Christmas Concert for 2016. in aid of The Society of Missionary Children. Come join us for a wonderful Christmas celebration in the beautiful Rathmines Church of Mary Immaculate, Dublin
FIRST NOEL CHRISTMAS CONCERT in aid of Down Syndrome Ireland
Our First Noel Concert is a great way to kick start your Christmas festivities. Please come along and enjoy a really exciting star-laden show and, at the same time, support the work of Down Syndrome Ireland.
We have a host of fabulous and well known artists, starring:
The Dublin Welsh Male Voice Choir
The Aspiro Choir from Carlow
David Agnew: Oboist
Clive Armstrong: Organist
Simon Morgan: Tenor
Celtic Woman Deirdre Shannon
Our MC for the evening is Ellen Cranitch from RTE's Lyric FM.
We are really excited about our 'First Noel' concert and we are looking forward to a great evening of music and song. We hope that the audience will join in too!
We will be serving Mulled Wine and delicious Mince Pies at the interval. We will also have a Christmas Raffle with special festive prizes.
We are very grateful to all these artists for their support and we are looking forward to a fabulous festive evening!
All funds support the work of Down Syndrome Ireland
Essential Information
Event Venue: Christ Church Cathedral, Christchurch Place, Dublin 8.
Dates: Thursday, December 1, 2016
Time: 20:00 (please arrive at least 15 minutes before start).
Duration: 2 hours
Interval: Complimentary Mulled Wine and Mince Pies
Admission: €25.00 (All funds support the work of Down Syndrome Ireland).
Booking: Tickets Bookable Online Here. Book Early to Avoid Disappointment.
Deirdre will be performing as a guest of the Celtic Tenors on Saturday the 12th of November 2016.
The concert will take place in the Killinkere Leisure Centre County Cavan starting at 8pm. Also performing will be the Baileborough Community School Choir, The Hard Time Chorus and the Baileborough Community Choir
Tickets €20 are available by calling 042-969 4715 or 089 221 2956.
The concert is in Aid of The Baileborough Community School ASD Unit, Castle Lake Development and Christmas Lights for Baileborough.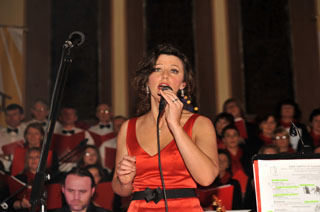 Hi if you would like to attend a great concert and here me sing then come along to see me with the Celtic Tenors and a new upcoming singer from Iceland Messiana at Christchurch Dun Laoghaire on Friday the 21st of October at 8pm. Tickets are €25 and available at www.eventbrite.ie.
The concert is in aid of building a new dining hall for the church.
Regards
Deirdre