Hi all i have added a few videos in the video gallery section from our Christmas concert in 2019. The concert was filmed in Killua Castle in Clonmellon County Meath.
The concert featured myself with Mathew Gilsenan from the Celtic Tenors, Singer Musician Brian McGrane and musician Gavin Murray
I hope you like them.
Have a happy and peaceful Christmas and stay safe everyone.
A beautiful collaboration with some very talented people in front and behind the camera. From Playwright and novelist Michael Harding, Irish Actor Alan Bradley, the wonderful musician Harry Long and all those who worked to make this a special and poignant production.
The film was shot in the Cavan County Museum which features some realistic World War One trenches and a huge amount of items and information from World War One among many other exhibits.
It is well worth a visit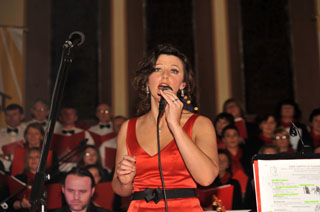 Deirdre along with Mathew Gilsenan from the Celtic Tenors will be performing a number of Inpirational songs in this online concert.
Join us for a Concert for Family Carers!
2020 will forever be etched in our memories but Family Carers Ireland wants us to all come together in solidarity with a Concert for Family Carers. This online event is being held especially for family carers, their loved ones, friends, family and neighbours and we invite you all to put Saturday 28th November at 8.30pm in your diaries and join us online.
The concert will be streaming on the familycarers.ie website, on Facebook and on Twitter.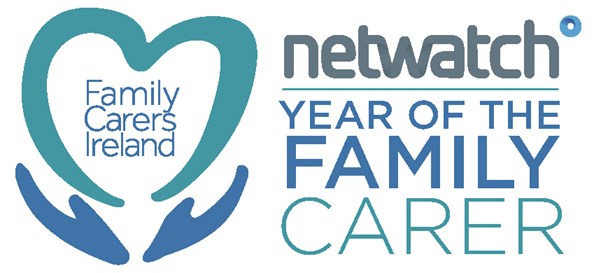 Matthew Gilsenan and Deirdre Shannon singing the Abendsegen "Evening Prayer" from Engelbert Humperdinck's Opera Hansel and Gretel. Also called the Children's Prayer. Sung on a Good Friday evening while Ireland is in Lockdown during the Covid 19 world pandemic.
A Christmas Evening
with Marina Cassidy Soprano & Harpist, Deirdre Shannon Soprano & Alan Bradley Actor.
This lovely evening of song and music will take place on December 15th 2018 in the Ramor Theatre Virginia County Cavan Ireland.
"A hearty fire piled winter high, Stars of wonder in the sky, Turn out the lights, The Christmas tree has light enough for all to see"
Admission: €18 & €16
Booking via the Ramor Theatre
f you would like to download a PDF of the poster click here Ramor a Christmas evening
A celebration of Local and International Artists including myself, Mathew Gilsenan from the Celtic Tenors and Michael Bunnock among many others. Kells the ReAwakening
Also some of the amazing performers were Gerry Leonard who has played with many artists including David Bowie, Steve Wickham from the Waterboys and called the "Greatest Rock Fiddle Player", Niamh Farrell songwriter and lead Vocalist with Hamsandwich. To learn more about these and the other performers have a look at the Kells ReAwakening site.
A great night for all.
Kells the ReAwakening 2018
A few photos from the wonderful gig in Kells on the 27th of January 2018.
Delighted to be performing again with the Celtic Tenors in the wonderful setting of Russborough House. Hopefully the sun will be shining and it will be a lovely summer evenings entertainment.
Tickets can be purchased at Eventbrite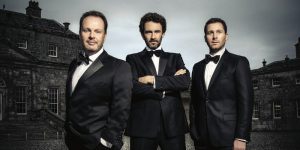 Enjoy a fantastic night with myself Deirdre Shannon, international Opera Star Majella Cullagh and Soprano and Classical harpist Marina Cassidy on Nollaig na mBan Womens Little Christmas.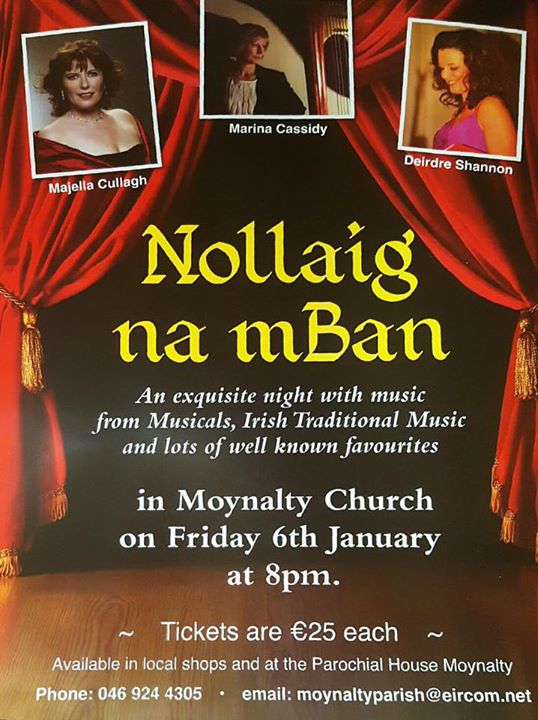 Hi join myself and the wonderful Celtic Tenors in their only Christmas Concert for 2016. in aid of The Society of Missionary Children. Come join us for a wonderful Christmas celebration in the beautiful Rathmines Church of Mary Immaculate, Dublin