Looking forward to a lovely evening performing with a number of artists including the Inspire Choral group and Celtic Tenor Mathew Gilsenan. Fingers crossed for good weather!
The Headfort Arms Hotel is in Kells, County Meath Ireland
The Festival is in the lovely Moynalty Steam Threshing Park which hosts crowds of up to 40,000 every year for the annual Steam Threshing Festival on the second Sunday in August.
Oh What A Night! Thank you Sheil Entertainment Agency for hosting this fabulous event in the Europe Hotel in Killarney. Co. Kerry. A special mention to the Keynotes and their wonderful vocals. Magical
Hi all,
Thanks for all the messages saying that some of the videos were now no available. For some reasons they had switched to private mode in YouTube. We have fixed that so they are back again. Thanks again and more to be added.
Deirdre
January 2022
Hark! A Kells Christmas Carol 20 December 2021. We'd like to share some festive cheer with you for Christmas. This is The Little Drummer Boy (Peace on Earth) sung by myself Deirdre Shannon and my brother Mattieg Gilsenan, accompanied by Kells Bells Quintet. Oh What fun!
Other wonderful artists were, musicians, Paddy Keenan, Eleanor Shanley, Paddy Smith Band with Jeanne McGovern, Robert J Ardiff, playwright Deirdre Kinahan, Ireland's Family Circus – Gerbola Circus and comedian Fred Cooke.
Hi all i have added a few videos in the video gallery section from our Christmas concert in 2019. The concert was filmed in Killua Castle in Clonmellon County Meath.
The concert featured myself with Mathew Gilsenan from the Celtic Tenors, Singer Musician Brian McGrane and musician Gavin Murray
I hope you like them.
Have a happy and peaceful Christmas and stay safe everyone.
A beautiful collaboration with some very talented people in front and behind the camera. From Playwright and novelist Michael Harding, Irish Actor Alan Bradley, the wonderful musician Harry Long and all those who worked to make this a special and poignant production.
The film was shot in the Cavan County Museum which features some realistic World War One trenches and a huge amount of items and information from World War One among many other exhibits.
It is well worth a visit
Cavan County Museum is excited to announce that their Christmas elves have been working hard at the Museum to create a beautiful new video being released here, for free, on their Facebook page, this Saturday 19th at 14:00 The video features insights on this strange year from the acclaimed writer Michael Harding along with a beautiful rendition of "Christmas 1915" sang by Deirdre Shannon (Official) in their WW1 trench.
The short film is also packed with stories and poems read by local children and grown ups and is directed by Alan Bradley Keep your eyes peeled for sneak peeks throughout the week!
Cavan County CouncilThis is CavanCavan Arts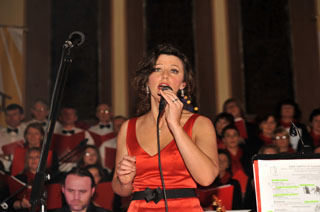 Deirdre along with Mathew Gilsenan from the Celtic Tenors will be performing a number of Inpirational songs in this online concert.
Join us for a Concert for Family Carers!
2020 will forever be etched in our memories but Family Carers Ireland wants us to all come together in solidarity with a Concert for Family Carers. This online event is being held especially for family carers, their loved ones, friends, family and neighbours and we invite you all to put Saturday 28th November at 8.30pm in your diaries and join us online.
The concert will be streaming on the familycarers.ie website, on Facebook and on Twitter.